You have to be accountable for your safety while on the road. You have to be sure that your car's brakes are working correctly. Here you leave no room for guesswork. So, you have to be sure you're using the best brake fluid. Well, it is the brake fluid that transfers power to the brake to ensure your vehicle comes to a stop with a simple press on the brake lever.
Despite its critical role in car functioning, many car users tend to overlook it and seem to settle for cheap options. If you aren't sure of the best brands, this article offers a top selection that leaves no doubts in you. But you need to understand that some brands are ideal for racing cars while others fit regular vehicles.
Additionally, you need to know about the composition of the brake fluid. The typical components include poly-glycol, lubricants, and additives. The best brake fluids also need to have excellent water absorption to keep the brake system in perfect condition. Now, let's see the top 10 best brake fluids.
10. Prestone AS400 dot 3 Brake Fluid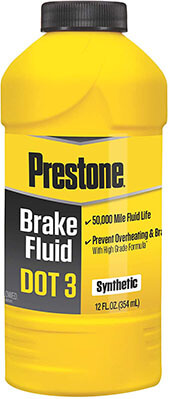 If you are looking for the best performance brake fluid, then we recommend Prestone's number 1 best-selling DOT 3 brake fluid. It is designed for safe operation and is perfect for both disc and drum brake systems aside from the ABS brake system. The synthetic fluid protects against overheating, performance decline, and brake fade. It is available in 1 gallon, 12oz, and 32oz depending on your need. The Preston AS400 brake fluid exceeds the set DOT 3 standard requirements.
9. Johnsen's 5034 DOT 4 Brake Fluid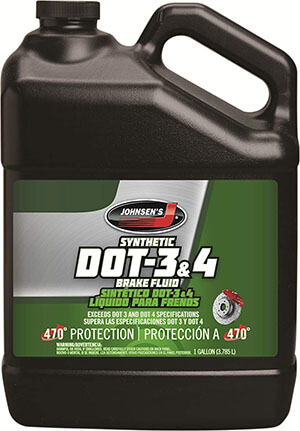 Another great brand to consider when buying the best brake fluid is Johnsen. The 5034 model is premium synthetic brake oil that offers protection against moisture absorption and vapor lock. It comes in three different sizes – 1 gallon, 12oz, and 32oz. The best part about this brake fluid is that it exceeds the requirements for both DOT 3 and DOT 4 brake fluids. Moreover, it is designed for the ABS, disc, and drum brake systems.
8. Johnsen's 2234 Premium DOT 3 Brake Fluid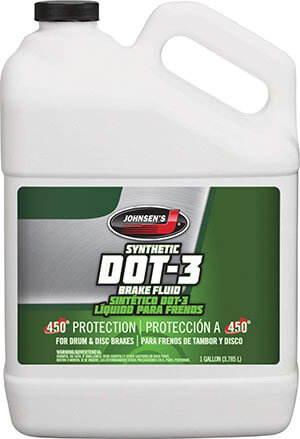 Another great product from Johnsen's is the 2234 premium DOT 3 brake fluid. It is available in 2 different sizes only. You can either purchase a gallon of the brake oil or a 32-ounce bottle of the fluid. The DOT 3 brake fluid's minimum boiling point is 450 degrees Fahrenheit. It meets and exceeds the set DOT 3 specifications and other federal and SAE standards.
7. Castrol SRF Racing Brake Fluid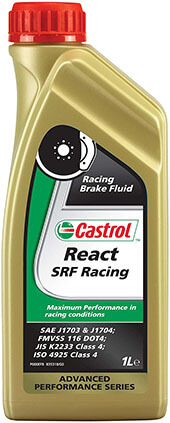 Castrol's SRF is also another great product that ranks as the best brake fluid within this price range. This brake oil boasts an exceptionally high boiling point. It is the best performance brake fluid to buy when racing or rallying.
6. ATE TYP 200 DOT 4 Brake Fluid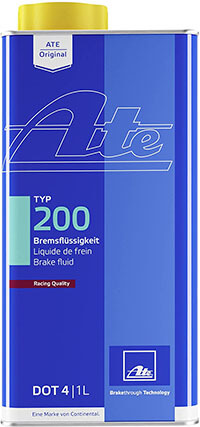 The ATE Original is also another great product that provides superior protection against rust. The high-quality additives used to make this brake fluid makes your brakes more durable and resistant. Whether you have a passenger car, an SUV, or a race car, this is the best performance brake fluid to use.
5. Lucas Oil 10826 Brake Fluid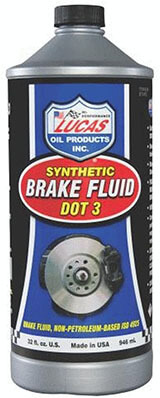 This brake oil is a blend of polyethylene glycol ethers and other additives. It is compatible with the brake system rubber components. The DOT 3 brake fluid helps protect against rust and prevents seal hardening. It is available in 2 different sizes, the 12ounce bottle, and the 32-ounce bottle. We recommend it for use in both drum and disc systems.
4. Lucas Oil 10827 Brake Oil
This DOT 4 brake fluid exceeds the minimum dry boiling point of 446 degrees F. it is recommended for disc and drum brake systems. The 12-ounce bottle of brake fluid sells at a great price and boasts excellent performance given the high-quality additives it has.
3. Bosch ES16-32N Brake Fluid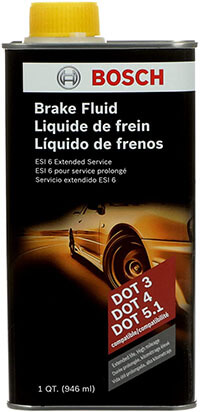 Why do you need the Bosch Brake Fluid? Well for one, it boasts excellent lubricity properties that help reduce noise and prevent wear of the components. The product exceeds all DOT standard requirements. We recommend this product if you're looking for the best brake fluid because you can use it with DOT 3, DOT 4, and DOT 5.1 brake fluids.
2. ACDelco GM Brake Fluid

You might also want to consider buying this brake and hydraulic clutch fluid. The DOT 3 brake fluid helps protect the internal components from corrosion. It comes in a 16 Oz bottle that may not be convenient to some people who want a larger quantity. The product's high boiling point and low-temperature capability undoubtedly make it rank among the top products on the market this year.
1. Motul MTL dot 4 Brake fluid
The Motul MTL brake fluid far exceeds the set standards of DOT 4. It is among the most preferred products on the market with great additives that help prevent vapor lock and fading during use. This product comes in a pack of 2 at a pretty reasonable price. You can also consider different packaging options if you don't want to purchase the 2-pack.